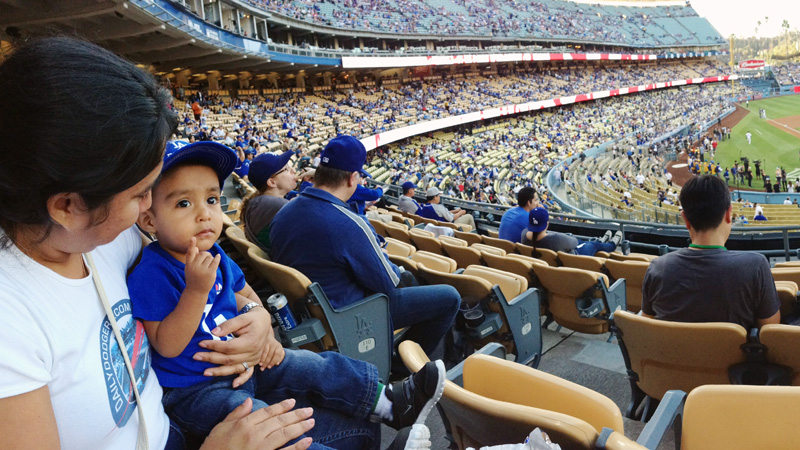 Jacob had another milestone this past weekend. On Saturday, he attended his very first Dodgers game at Dodger Stadium with mom, dad, and grandma and grandpa Gonzales.
The second we pulled him out of the car, he looked around with a "what the heck is this place?" look on his face. As we walked toward and into the stadium, he was fascinated by everything around him.
However, his favorite part had to be the food. His first trip to Dodger Stadium including his first taste of a legendary Los Angeles delicacy — a Dodger dog. Maybe not the greatest hot dog in the world, but you pair it with the history and experience that is Dodger Stadium, and it sure is tough to beat.
Other tasty delights on the menu for Jacob included a pretzel, which he shared with dad and a chocolate malt, which he shared with mom. The malt was probably his favorite. He is his mother's child.
He was really good and well behaved during the game. Other than getting a little scared when the crowd erupted in cheers after big plays, he enjoyed taking in everything around him and relaxing at the ballpark. And there were bubbles floating through the air after big plays. He loves bubbles and spotted them faster than we did. He enjoyed walking up and down the isle stairs, making smiles at one of the women near us, making dad chase him through the concourse, and he lasted a lot longer than we thought he would. By the end of the seventh inning, he was looking tired so we left. He was fast asleep by the time we hit the 110.
All in all, it was a great experience. Not only for him, but mom and dad. Thanks to grandma and grandpa Gonzales for tagging along.
By the way, the Dodgers are 1-0 in games where Jacob was in attendance. Just sayin'.